Do you believe you are loved? Do you know what it means to be loved? How would your life change if you believed you were lovable?
Have you ever been around kids?  All they want is to be seen. They can hardly do anything without an audience.
Why? Because it makes them feel worth our time and our attention.  It makes them feel important and valuable. It makes them feel loved!
My question is this, do we really change all that much when we grow up? 
"How do you know me?" Nathaniel asked.

Jesus replied, "Before Philip called you, I saw you…" – John 1:48
CHRIST SAW HIM!!!!
What does that even mean? How can you know someone you've just barely seen?
When Christ SEES someone, He truly SEES them. He sees to the core of their being. He knows their heartache, their needs, their desires, their wants, their struggles, their pain in a simple glance. He sees their weakness, their capacity, their calling, and their future. Seeing for Christ goes so far beyond the superficial, the curly hair and the brown eyes. He sees your SOUL, and, in seeing you, ACHES for you, LOVES YOU!!
And when He came near the gate of the city, behold, a dead man was being carried out, the only son of his mother; and she was a widow. And a large crowd from the city was with her. When the Lord saw her, He had compassion on her and said to her, "Do not weep."  – Luke 7:12-13
He took the time to SEE her and have compassion on her even though He was en route elsewhere with crowds following Him.
At the sight of the crowds, his heart was moved with pity for them because they were troubled and abandoned, like sheep without a shepherd. – Matthew 9:36
Even though He was grieving the loss of His cousin and seeking solitude, He SAW them and had compassion on them.
This same compassion after SEEING someone in distress happens countless times throughout the gospels. Why would it change now???
[mailerlite_form form_id=1]
You are loved!
Each one of us has an insatiable desire to be seen, known and loved. We want to be noticed behind our kids, behind our walls, behind our skills and accomplishments, behind our makeup, our forced smile, our Facebook pictures and our "I'm fine's". We want to be valued despite our mistakes and our bad hair days. We want to be seen and appreciated with all our mistakes.
This gives us the FREEDOM to fix our mistakes because we want to rather than because we have to in order to earn "love-ability" status.
(Read also: 4 Pillars of an Unshakable Relationship with God, Human Weakness – The Secret to Super Human Strength, Called to be Vulnerable)
Love is freedom
We are FREE because we are loved.
We are free to be mediocre or to be great, to change or not to change, to work hard or not at all because it is not what we do that makes us beloved.
This is God's vulnerability, our freedom… But, it is also the proof of His love.
We will only feel true freedom when we feel true love.
Human Love vs. Divine Love
Mere Human Love just doesn't "cut it"
We, human beings, judge without knowing it.  Our patience isn't infinite. Even when we think we love unconditionally, we still find ourselves acting at times anything but lovingly.  This is why we need God, why His love is the only thing that can fill our need for love (Read also: Called to be Filled)
He merely needs to see you, in order to know you…. or rather, for you to feel known. And not just known, but loved, deeply and profoundly, without reservation. Delighted in, regardless of imperfection. We are called to be loved.
Read also: Does God really Love Me?
Don't hide from the love that you seek.
(Also read about Original Nakedness without Shame from the Garden of Eden and Naked Honesty in 4 Pillars of an Unshakable Relationship with God.)
Will you let Him see you today?  What are you holding back?
---
What does this mean for us? -Called to share the love
We are made in the image of God. We are made with His capacity for love, the capacity – and the call – to die for love, (despite how unaware of this we are and how little of this capacity we tap into). 
How to share Christlike love
1 – Allow yourself to be loved – Fill the aching void in your heart that causes you to be bitter and makes you believe that you don't have enough love to give. Build an Unshakable relationship with God that fills you with a powerful, intense, and peaceful love that will naturally overflow to others. (Read also: Called to be Filled)
2- See others behind the facades. Notice the person regardless of the situation.  Know that that no one is alone. Everyone is hiding pain.  Everyone is hurting.  Everyone has their "ugly" beyond the good and the bad – whether you know about it or not. (You don't have to know everything about the person in order to "see" them.)
3 – Know and Accept that they need and deserve to be loved no matter who they are or what they have done. Everyone needs to be heard, seen, and valued, no matter what. (Read also: Stop fighting and Start Loving).
4 – Observe. Observe before reacting. Understand all the facts before offering an opinion. Maybe don't even offer an opinion or a solution, but simply recognize that sometimes all people need is a little compassion, a hug, a listening ear. Sometimes all they need is to be seen.
5– PRAY – Ask for Guidance. There is so much more to love – how to act, what to say, and what to do – but, every person and every situation is different. There is no way to make a list of how to love every person in your life they way they need to be loved. This is why it is so critical to pay attention to them, to SEE them. And then ask for guidance. Ask them what they need, or ask God. PRAY. Once you have built a strong relationship with Him, you can easily begin to recognize His promptings. He will never be silent when you ask for help in how to love.
6 – Act – Yes, acting is the LAST step. Remember that love isn't doing what you want to do (necessarily) or what you think is best – but rather, it is doing what the other person NEEDS. This could be a gentle push in the right direction, tough advice, space, or simply compassion with no action whatsoever. This is why asking for guidance and following it is so important.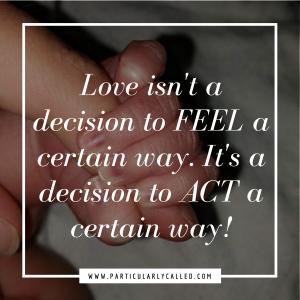 How are you being called to share the love?  Has anyone shared this freeing love with you? Share your testimony below!
---
#Togetherinthetrenches #ParticularlyCALLED #IamCALLED
[mailerlite_form form_id=1]