When I was little I had a really bad bike accident just as I was starting to get confident on two wheels. Ever since then I have had a love hate relationship with bikes.  I love the feel of the wind on my face and the call of the open road… but, I can't handle cars, pedestrians, intersections, gravel, bumps, turns, snow, downhill grades or anything else that gives me even the slightest concern for my life.
I am a cautious being by nature, so speed and adrenaline are not my friends.
And yet, I realize that it is my fear that makes me unstable. It is my lack of confidence that makes me falter.
So I must question, am I sabotaging myself?
At once [Jesus] spoke to them, "Take courage, it is I; do not be afraid."Peter said to him in reply, "Lord, if it is you, command me to come to you on the water."He said, "Come." Peter got out of the boat and began to walk on the water toward Jesus.But when he saw how [strong] the wind was he became frightened; and, beginning to sink, he cried out, "Lord, save me!" Immediately Jesus stretched out his hand and caught him, and said to him, "O you of little faith, why did you doubt?"  ~ Matthew 14: 27-31
In this passage it is Peter who chooses to get out of the boat, Peter who walks on water, and Peter who sabotages himself.
Peter gets out of the Boat
The Lord did not force Peter out of the boat – but rather complied with Peter's request to prove He was who He said.
Christ said "Come" in response to Peter's request.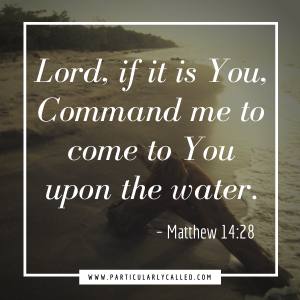 Peter Walks on Water
Of course the Lord is who He says He is…. so Peter does the impossible and walks on the waves!
Peter Sinks
Peter is fine until He starts looking at the waves and remembers his humanity. He forgot that walking on water was actually possible! Wasn't he doing it just moments before?
Problem is, He's already in the middle of the water.
Are you in the middle of the water?
Did you already step out of the boat? Do you feel like you are sinking? Like you can't do it all?
Like you need a miracle?
Did you forget that before you focused on the waves you were living one?
It is when we focus on our humanity rather than His divinity that we start to sink!
You can't do this… but you already know that. You knew it before you got out of the boat.
But, HE IS GREATER THAN THE WAVES!
You've already seen His miracles. Now you just have to trust.
[mailerlite_form form_id=1]
Maybe you haven't gotten out of the boat yet…
Maybe you are looking at the whole situation and thinking about how CRAZY it is to even think about stepping out of the boat.
And, you'd be RIGHT!!!
But Our Lord loves crazy!  He loves reckless abandon (when it comes to seeking Him and following His plan). And He LOVES to do miracles!
God calls us to do what we want to do deep down
He calls us to come to Him.
Arise my love, my dove, my beautiful one, and COME! – Song of Songs 2:10
Who cares about the waves?  What matters is being close to the Lord!
Have you forgotten your purpose?
Are you being called to step out of the boat?
Do you want to be with the Lord?  Then ask Him to let you come to Him. It's always out of the boat, out of our comfort zone.
The life God has planned for you REQUIRES miracles!
Miracles are possible – and necessary
Peter did it! He did the impossible!
"For God all things are possible." – Matthew 19:26
There will always be waves. There will always be legitimate things to worry about. But nothing, NOTHING, should ever stop us from pursuing God.
Is fear still getting in my way?
If I think about it too much I know that what He asks is too much. I can't walk on water.
Nope. Physically impossible.
This is me focusing on my Humanity.
Is it stopping me from asking Him to let me come to Him?
Called to Vulnerability
 But when he saw the wind, he was afraid and, beginning to sink, cried out, "Lord, save me!" – Matthew 14:30
God doesn't call us to a life that is safe and comfortable. Many times I have asked Him, "Lord, but if I step out of the boat, how many times will I look at the waves?"
He responds, "Plenty, but I have a plan for that!"
No matter how many times I falter, no matter how many times I focus on the waves,
I can always cry out, "Lord, save me"
and He will lift me up.
Our Humanity is a Reality
I fight against my call to step out of the boat everyday. My fear regularly comes back to haunt me. I feel the "what if I'm not good enough" twinge in my heart and want to stop fighting, to run away and hide, to bury my talents in the ground, because it is safer (Matthew 25:18).
It is true that ALONE I am not good enough.
"For human beings this is impossible, but for God all things are possible." – Matthew 19:26
But, I am not alone! The only reason I am called out of the boat is to come to Him!
He uses our Brokenness
I am human. I am broken. I am far from perfect. But,
imperfect or not, I am chosen.
Broken or not, I am entrusted.
Being exactly who I am is the key to my Calling.
This is why Christ became man – to show us that He knew what it was like to be one of us – VULNERABLE to pain, loss, betrayal, abandonment, sadness, rejection and even death.
How can God work with me if I refuse to step out of the boat?

Important Reminders
Sometimes we have to step out in trust to find out that we do not sink.
If you are still in the boat, remind yourself of the reason you want to do this. He is calling you to COME to Him.
If you are already out of the boat, remind yourself that just before you freaked out, you were already walking on the water!
And know that He has a plan for every time you look at the waves.
Keep your eyes fixed on Him and you have nothing to fear!
————–
Practical Tips if you don't know what it means to "Step out of the Boat"
Do whatever He tells you. – John 2:5
1) Ask yourself how He is asking you to invest your talents (Matthew 25)
Note, investments are never certain – That's what makes them scary (Matthew 25: 24-25)
What does He want you to do? What is your comfort zone and how is He asking you to step out of it? Do you feel him tugging on your heart to do something? To give Him something? More time? More money? More trust?
2) Get more prepared for your "investment"  – Grow, humbly, in confidence
When you are more confident you are less likely to succumb to fear.
Read books. Take a class. Get more knowledgeable about whatever you think He might be asking from you. Get more spiritually fit. Face your fears, your weaknesses, your pride, and your vocation
Read also: 
3) Step out of the boat (Matthew 14:29)
A wise person once told me, "At some point you have to stop discerning and just live the decision".
Have confidence that you are indeed choosing the Next Right Thing you know, and take the plunge. 
Step out of the boat.
And see what happens…
How might He be asking you to be vulnerable today? What are you holding back? 
---
Read also:
[mailerlite_form form_id=1]
#ParticularlyCALLED #Togetherinthetrenches #IamCALLED