About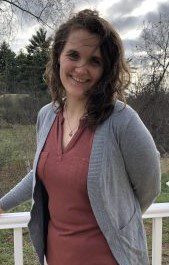 Hello! I'm Carolyn!
I write (and speak, and live, and breathe) to help you:
1) understand that your "calling" is first and foremost a calling to intimacy with God,
2) develop a sincere depth of relationship with Him that enables you to have the courage,  confidence, and constancy it takes to be the person He made you to be
3) and, ultimately, discover your purpose and your truest fulfillment in that sacred space. 
On a more personal level…
I'm an over-educated wife and mother 🙂
With multiple advanced degrees and an unintentional, but unavoidable bent towards teaching and a passion for education in general, I always imagined that I would be a spinster-y language professor who lived alone, buried in books in the south of Spain… that or accidentally married to a Mexican bartender.
But, God's plan almost always looks different than we imagine it (Thank goodness!).
Somehow, I now live in Vermont, speaking, writing, and pursuing a quiet, intentional life with my beloved postmaster husband, 6 children, 30 acres, 500 maple trees, chickens, herb gardens, farm stands, and a sourdough starter.
God certainly has a sense of humor 🙂
People tell me I am "living my dream"
…and I laugh inside.
I could never have drempt this up! Never in a million years! 
And yet, I am happy! Happy and peaceful. Joyful and surprised every moment of every day. (Ok, not like nirvana, but more like filled with a richness I could never have experienced otherwise).
Everyday is still a battle to choose His plan over my own, to trust and surrender, to listen and to let Him lead. The imperfection with which I follow somedays is enough to send me crumpled to the floor of my closet or to a tear stained journal page… but He never fails to lift me back up to start anew – fresh and with renewed vigor. The process is both convicting and beautiful, refining and glorious, and I hope that the things I learn on my journey might encourage you on yours as well.
And so I write…
Taking the things we know and love and trust (like science, psychology, human emotions, and the occasional movie quote) and pointing them back to God (who has been their source all along).
Hoping to spark a little rekindling of the love we were made for. The love that is capable of miracles and martyrdom. Love that bridges the gap between faith and reason, and the intimacy that meets us on the road and makes it all worth it.
And, on a practical level, Trying to redefine what it means to be "CALLED" so your stress comes down and your passion goes up! Stop worrying and start loving… I mean living! 😉
These 3 things have become my life's mission, my sole goal, my only hope, and my true prayer.
"For everything that is created wants in the depths of its being to do what it is created to do" – Friedrich Hoffmann
If there is ever anything I can do for you,
or some way I am able to serve you in this space, please let me know.
You can email me at Carolyn@ParticularlyCALLED.com.
Alongside you in the journey,
~Always~