We are all too familiar with our human weakness.
Do you get frustrated by failure? Do you feel that all too often your best efforts and best laid plans are thwarted by irritating nothings that somehow have the power to ruin everything?
I'm pretty sure most human beings can agree that we aren't the biggest fans of not measuring up to our own standards, or, even worse, to the standards we feel others place on us. As disappointing as it may be, we are all human. And, part of being human entails weakness and imperfection. :'(
How can we ever find peace with our reality if we are trying to become something we are not (namely, perfect)? Is there any way to see our weakness in a more positive light?
But He said to me, "My grace is sufficient for you, for power is made perfect in weakness." – 2 Corinthians 12:9
How can this be?
A child needing help understands.
When I help my little ones zip their jackets, tie their shoes, or peel their oranges, they look at me with almost awe-filled eyes at the wonder of my "power". My three year old put her coat on today and when I helped her to zip it she looked at me with gratitude and said, "We make such a great team, mom!"
What a compliment!
Man was not made to be alone (Genesis 2:18)
This applies not only to physical human relationships, but also to the Only Relationship that can ultimately fill us and give us strength.
We complain about not being able to see God at work any more in modern daily life. This is because we don't step aside often enough and let Him show His power through our weakness.
The Role of Acceptance
We look down on virtues of obedience and words like "submission", but, really, all they are is RESPECT. Respect and Gratitude. Respect due to the One who sees our struggle and only wants to help. One who is actually capable of what we genuinely cannot do (yet).
Nothing is more frustrating than watching my babies struggle because they refuse my help, help they desperately need but do not think they want.
In no way does admitting our need demean us, it simply enables God to work WITH us to show us how to do what we could never do before.
[tweetshare tweet="Admitting our need enables God to work WITH us, to show us how to do what we could never do before." username="CarolynMPereira"]
How to let God work through your Human Weakness
We cannot do this alone – For His strength to truly shine in us He needs our necessity, hence our weakness, and our cooperation.
In order to do this we need to develop a close relationship with Him and trust Him enough to do as He says.
Remember, without the unquestioning submission of the waiters at the Wedding at Cana, Christ's first miracle never would have been realized.
Read also:
3 – Be patient and stop trying so hard to help
Just do whatever He tells you (John 2:5).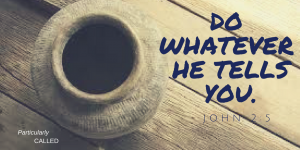 His power is best shown when we step back and let Him show us what He can do… Honestly, our best intentions often cause more trouble than they are worth….If you've ever had a toddler "help" you in the kitchen, you know what I'm talking about.
Watch the miracles happen and be grateful for the help…  you couldn't do it anyway, remember?
In the end, it is because I know that I am not responsible for the solution, that I can be truly amazed.
No, I was not meant to be alone. Alone I can do nothing. I can only be strong – strong enough to exceed even my own imaginings, when I am with Him who is strength itself.
Read also:
Comment Below: How has God shown His strength in your weakness? Or, where do you need Him most right now?
---
[mailerlite_form form_id=1]