Let's face it.  Let's be real.  Sometimes LIFE SUCKS!!!
It seems like recently I have found myself crying a lot… I can't always tell if it is little stuff or big stuff. Maybe it doesn't matter.  Maybe its just the accumulation of stuff with no chance to breathe in between. Maybe it's the pregnancy hormones, but maybe its not.
Car accidents really do suck. Insurance companies suck. Broken major appliances suck. Dealing with money issues sucks. Extended family drama sucks. Addictions suck. Self-image issues and parenting troubles suck. Utter exhaustion with no end in sight sucks.
And the list goes on… [insert your troubles here]
This post isn't going to tell you that what you are dealing with is "not so bad".  It isn't going to tell you to "buck up". "roll with the punches", or "keep your chin up". This post isn't here to tell you you shouldn't be hurting, especially if you have God in your life. This post is to validate you. To affirm your overwhelm. To tell you its ok sometimes to feel like you are drowning.
Because drowning is where everything can finally begin!
What?! Life sucks, and that is somehow a good thing?
Yes, you heard me right.  Drowning is a good thing!
God gives us more than we can handle on purpose!
Drowning re-reminds us to call on God
Jesus was in the stern, asleep on a cushion. They woke him and said to him, "Teacher, do you not care that we are perishing?" [or, in other translations, "drowning"] ~ Mark 4:38
We seem to need a million reminders that we need Him in our lives and that, despite our most valiant efforts, sometimes we literally just can't do this without Him.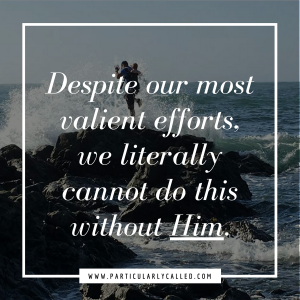 Read also: How to let God work through our Human Weakness  
Drowning reminds us to refocus our eyes on God.
Peter got out of the boat and began to walk on the water toward Jesus. But when he saw how [strong] the wind was he became frightened; and, beginning to sink, he cried out, "Lord, save me!" Immediately Jesus stretched out his hand and caught him. ~ Matthew 14:29-31
Peter only started to sink once he took his eyes from the Lord and started to focus on the waves and the wind.  Only then did his fear take over and his faith begin to waiver. How often do we need this reminder!?! Refocus on the Lord, cry out to Him in your need and he will "IMMEDIATELY" stretch out His hand to rescue you also.
[mailerlite_form form_id=1]
Drowning unites us to Calvary
Drowning is a death that takes our last drop of oxygen. Some may not be aware that traditional Crucifixion also caused death by asphyxiation (look it up in Google ;)). True, it is now well established that Christ did not die by simple asphyxiation alone, but from a combined myriad of causes (as might be imagined) trauma, hypovolaemic shock, blood loss, etc. (because of all the other tortures He went through prior to crucifixion). But, asphyxiation  still played a major part, as it was meant to.
It is no coincidence that the 3 of the gospel writers focus on Jesus last breath (John focuses on His last drop of blood – for other cool theological reasons outside the scope of this post):
And when he had said this, he breathed his last. ~ Luke 23:46

But, Jesus cried out again in a loud voice, and breathed His last [handed over His spirit]~ Matthew 27:50

Jesus gave a loud cry and breathed his last. ~ Mark 15:37
We are called to die with Christ
"You will indeed drink My cup," Jesus said. ~ Matthew 20:23

"I give you a new commandment: love one another as I have loved you" ~ John 13: 34

"Greater love hath no man than this, than to lay down one's life for one's friends." ~ John 15:13

"Whoever does not take up their cross and follow me is not worthy of me. Whoever finds their life will lose it, and whoever loses their life for my sake will find it."  ~ Matthew 10:38-39
This "death" does not have to be literal death.  It can also mean the every day "white" martyrdom of living this non-paradise with love for those around us. It just means continuing to do all those little things you would "rather die than do". It just means taking that step out of the boat despite the waves. It means accepting the fact that you will falter and sink because you will lose sight of what matters. It means constantly calling out to Him and refocusing your eyes.  It means accepting our humanity and recognizing that He is the only one who can save us.
Read also: Giving Everything – to get everything in return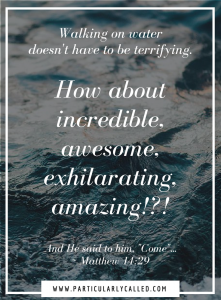 Dying with Christ enables us to rise with Him
For if we have been united with him in a death like his, we will certainly also be united with him in a resurrection like his. ~ Romans 6:5
Whether our death is literal or figurative, complete or just a close call, without it He cannot raise us up.
Lazarus (John 11), the daughter of Jarius' (Mark 5:35) and the Widow's son at Nain (Luke 7:11-17) had to die before they could be raised.
The wind and rain had to batter the boat to the point of sinking before the disciples called out to Our Lord to save them (Matthew 8:27).
Peter had to sink before Christ could pull him out of the water.
We too must sink in order for us to be pulled back up.  He literally takes us by the hand and raises us from the dead.
Talitha, koum (Mark 5:41)
How do we stay afloat?
Recognize that the waves, wind and rain are very real and all around, but really they don't matter, because God is greater.
Keep your eyes fixed on Jesus. Simply that.
This requires faith. Trust. Patience.
And how do we get faith, trust, and patience?
From a  genuine relationship with God.  From knowing Him well enough to know that He is faithful,  trustworthy and that His timing is always best.
We need to cultivate a strong relationship with Him so that we can recognize His presence, His voice, the way He works.
[mailerlite_form form_id=1]
This recognition of our need for Him is the invitation to love.
It is an invitation to relationship… to a life where we can live without fear or worry no matter how terrible the storm might be.
After all, this is when He is holding our hand….
Love begins with Need
I am the way, and the truth, and the life; no one comes to the Father but by me. ~ John 14:6
 The first and most basic level in any relationship is that of need (not to be confused with "neediness", see below). Need is the most basic element of human existence. Thus, the fundamental foundation level of our relationship with God is that of our recognition of our need for Him.
Love always begins with a basic need for something/someone. A baby loves its parents, at first, not because they are nice to him but because he needs them. When I met my husband I began to recognize that I was falling in love when I realized how much I needed his advice, his company, his reassurance in my decisions and basically everything about him.  I first began to recognize the love I had for him as love when I realized I couldn't, or at least didn't want to, face the idea of living without him.
The difference between need and "neediness"
Recogninition of true need for God is our invitation to love Him. But, "neediness" is love killing. The former is a healthy admission of our mutual dependence on each other as God designed it, with both parties committed to working for the good of the other. The latter is a parasitic, leech like, whiny reliance on the "beloved" to do and provide everything for him/her, while refusing to acknowledge their own capacity to lessen the burden or purport anything to the relationship. Spoiled grown children often exhibit this kind of neediness when, for example, they expect their parents to do and provide everything for them.
See also: 4 Attitudes Preventing your strong relationship with God and 10 Questions to see if you have a Genuine Relationship with God
Need results in Gratitude
When we receive assistance in our need, we are filled with gratitude. This gratitude allows us to shift our focus from ourselves, our need, to the One who fills the need.
This is how need leads us to love!
We must go beyond need DEEPER into Love – This is just the invitation, not the end!
But, what happens when our "needs" aren't met, we complain and we begin to doubt? This is because need is the weakest level of love and can easily be shaken. This is because often we never seek to move beyond our needs and the due gratitude that results from them. We get caught up in a circle of petition and thanks but never move beyond this level of essentially using God for our own purposes.
If this is you, I challenge you today to resolve to move beyond the level of need into deeper waters (Such as faith, trust, obedience, etc). Your relationship with God is worth it!
In what way has God used your struggles and desperation to invite you closer to Him??? Comment Below!
Read also:
10 Questions to see if you have a Genuine Relationship with God
Using the Our Father to teach us How to Pray and What to Pray For
[mailerlite_form form_id=1]
---
You might also be interested in:
What a True Relationship with God looks like
How to let God work through our Human Weakness  
Why, God? – Exploring the Reasons behind what God asks of us
---
#Togetherinthetrenches #ParticularlyCALLED
[mailerlite_form form_id=1]