In many respects I am the last person who should ever be writing about this topic. God as Father? Childlike faith has almost always had an impossible and, if we are being perfectly honest, even slightly repulsive ring to it in my mind.
My whole childhood I LONGED to be a grownup. And now that I am one, I LOVE IT! I revel in it. Aging doesn't phase me, it excites me!
The difficulties and obstacles that face me in adulthood have always been further ways to show "my strength".  I pride myself on being able to do anything I put my mind to. I love that sense of "capable"ness, that the "grown-up" me has; a level of self-confidence I never experienced before.
But, believe it or not, this love of adulthood, is what set me on the path to appreciating what it means to have childlike faith.
Parenthood
I regularly find myself in prayer, complaining about how impossible it is to understand my children and my husband sometimes.
Parenthood has been the first challenge in my life that has felt impossible to master.
No matter how much reading or studying I do, how beautifully planned out and clear my lectures are, how good my intentions, or how patient I am at the outset, I have finally learned that: parenting is not a task to be mastered, but a journey to be accepted.
It is not about beautiful explanations of why my way is truly best, but about loving people…. and love isn't always about understanding, it is about acceptance.
Intelligence as an obstacle
Thus,  my "intelligence" has been, to some degree in my parenting journey, my mortal enemy.
I have been trying to fit the greatness of God, and my children, and my husband, and my family in general into the tiny box of my human intelligence, making the mistake of thinking that somehow, I should be able to understand all the how's, all the why's, and all the logic, that my human intelligence is large enough to encompass it all,
But it was merely pride…
My intelligence made me believe that I was capable of greatness, that I was stronger than average, and that I should be able to accomplish things that they cannot – after all, it has been the norm of my life up to this point.
But now, He is asking me to let go of my need for understanding and just trust, just love, just try without knowing why or how.
Letting Go
I must let go of my plans and my to do lists and be ok with His plan and His to do list.
Because, He is asking me for childlike faith. 
Jesus, however, called the children to himself and said, "Let the children come to me and do not prevent them; for the kingdom of God belongs to such as these.  Amen, I say to you, whoever does not accept the kingdom of God like a child will not enter it." – Luke 18:16-17
…But, I "hate" being a child… Or, do I?
[mailerlite_form form_id=1]
A revelation about "childlike-ness"
There is a difference between "childlike-ness" and  "childish-ness". 
Childishness is all the negative and immature parts of humanity in general: ie. the whiney-ness, the fit throwing, the pouting, the obstinacy, the refusal to listen or to accept help, etc.  We are all plagued by these characteristics, not just children.
Childishness is measured in maturity, not in age.  And, there is nothing that says you have to be childish.  (I wonder why that's the part we hold onto?) 
In fact, we almost need to be perfectly mature to live true Childlike-ness. 
Childlike-ness, I realized, has 3 inseparable elements…
3 secrets to living a more childlike faith
that God knows best and that He loves you enough to give you what you need and withhold from you what isn't in your best interest.
This means accepting a little "tough love" every once in a while as well – knowing that there must be a purpose behind the struggle.
2 – Accept
that God's ways are above our ways and we will not always see the value in them until we can see it in hindsight.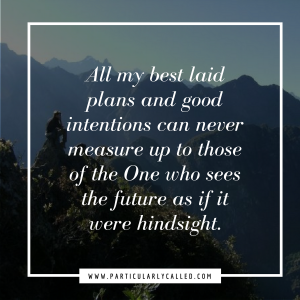 Do whatever He tells you – John 2:5
Read also: Following God – 4 tips for doing God's Will (Even if you don't know what it is)
[mailerlite_form form_id=1]
The unifying characteristics of all 3 secrets
1 – Simplicity in the acceptance – No understanding or explanation necessary
We don't have to make sense of God before we trust Him, nor must we understand His plan before we accept it. We don't even have to know all the steps before we make an effort to follow Him.
2 – It all stems from a Relationship with God as Father
I love watching my husband play with my kids. I love watching Him throw them up in the air and listening to them squeal with delight. I love watching them ride on His shoulders, and listen to him just because "Daddy said". I love watching the simple way they (usually) follow his instructions to help, or clean up, or fix things.
Watching the interaction between them reminds me every day how my relationship is supposed to be with God.
Our joy comes from the fact that we are in a relationship with a Good, Good Father. One who loves us and is worthy of our trust. One who throws us in the air to watch us laugh.  He walks beside us to encourage us and give us strength to deal with our mistakes, protects us with His life, and would never let anything happen to us that didn't help us grow.
The result of Childlike Faith = Carefree Joy
Yep, that smile, that laugh that comes from being thrown into the air and just enjoying the ride!
Where does this joy come from?
1 – Understanding
Yes, the coveted mental area I thought I had to let go of all together, comes back in a newer, fuller way. Once we have trusted enough to watch His plan unfold before our eyes, we are able to better understand in hindsight it's purpose and it's value.
2 – Gratitude
a level of thanksgiving we were never able to experienced before when we were relying on ourselves, our own power and our own devices to accomplish everything. This also gives us a new level of freedom we never knew before because now we don't feel so much pressure to do everything on our own.
3 – Praise
Praise is simply recognizing the amazingness of God.
In it we may express gratitude for the ways He has touched us but, more than anything, we simply need to stand in wonder of the God who made everything and who holds everything in the palm of His hand. We need to feel small in his presence and yet awestruck by the fact that we are so important in His plan.
Read and relish in Psalm 139 especially verse 14:
"I praise you, Lord, for I am fearfully, wonderfully made".
But, what if I had a bad relationship with my real father?
Doesn't that make seeing, trusting, and loving God as my father all that much harder… and frankly,  undesirable?
2 things:
First –
If you had a bad relationship with your real father, I can almost guarantee you wished you could have a good relationship with a good father for most of your life. Well, here's that chance. It might be hard to trust Him because your real father let you down, but God doesn't have those same kinds of limitations. Just give Him a chance and see.  (Read: 4 Reasons we Don't Trust God and how to Overcome Them)
Second –
Recognize that our wounds color the way we view reality, but they don't necessarily make our perception true. If you are dealing with serious wounds from your past, you should actively pursue healing in those areas. I highly recommend going through my 30 day devotional 4 Weeks with Jesus, if you are struggling here. Or try one of the resources below.
(Affiliate links: If you purchase any of these books I will receive a small commission at no additional cost to you. Thank you for your support of this ministry)

Living Childlike Faith
Soooo, will I ever truly live childlike faith?
I don't know.
It certainly doesn't come natural to my Type A personality.
All I know is:
I can still be mature and be childlike.
"Trying to be intelligent" makes simplicity more complicated than it needs to be
Childlike faith is what is going to bring me the greatest happiness in my life – it allows me to let go of my worries and know that God will truly take care of everything.
 Simple Trust, Acceptance and Following make it SOOOOOOOOO much easier for God to take care of me (I only wish my kids would learn this ;-P)
It's totally worth the effort!
Share: Have you seen the benefits of Childlike faith in your own life? What are your difficulties with Childlike Faith?
---
#Togetherinthetrenches #ParticularlyCALLED #IamCALLED
[mailerlite_form form_id=1]