Does it ever seem impossible to rejoice in difficulty? Let's see if we can lessen some of the fear that's involved.
Lord, I'm here with You. I'm aching. Life hurts. I wish everything didn't always have to feel so hard. But, Lord, I'm still here. I have nowhere else to turn…
Jesus then said to the Twelve, "Do you also want to leave?"Simon Peter answered him, "Master, to whom shall we go? You have the words of eternal life." – John 6:67-68
How to Rejoice in Difficulty
Christianity and the Cross
There is nothing fluffy about Christianity. Life is tough and we know it. A fluffy faith only works in fluffy times – but if "we have [truly] come to believe and are convinced" like the twelve, "that He is the Holy One of God", as in John 6, our faith has to go deeper than this.
It has to go into places where we do not understand, and where we cannot see. It has to lead us to walk blindly with total confidence through storms and every kind of fear, no matter how real the dangers might be.
I have given you the power 'to tread upon serpents' and scorpions and upon the full force of the enemy and nothing will harm you. – Luke 10:19
Read also: Overcoming the Fear of Being Vulnerable with God
We Cannot Run from the Cross
Well, I supposed we can… In fact, we do it very well, and on a regular basis…
Many are enemies of the cross of Christ, whose end is destruction, whose god is their appetite, and whose glory is in their shame, who set their minds on earthly things. – Philippians 3:18-19
The real question is: SHOULD we be running?
Whoever does not carry his own cross and come after Me cannot be My disciple. – Luke 14:27
For the Christian then, the cross really isn't "optional".
The cross is the climax of our faith. It is the only proof of real love and the only way to arrive at the Resurrection. It may not seem attractive at first glance but it's value is literally incomparable.
When a person works out, it is not fun.  It is sweaty, painful, exhausting, and time consuming. Most people could probably come up with 100 things they'd rather be doing… but this is why no one works out for the sake of working out.
The cross itself is never the goal. If Calvary had been the end of the story, the whole legacy of Jesus Christ would have been as just another forgotten crazy person who was crucified during the Roman occupation of Jerusalem along with so many others. But, this is not the case.
If we desire suffering for the sake of suffering, it is considered a masochistic perversion, but when we ACCEPT, and even embrace suffering for a greater purpose or a greater good then it becomes redemptive, beautiful, cathartic, purifying, and even encouraging to the one who suffers.
There is always a greater purpose.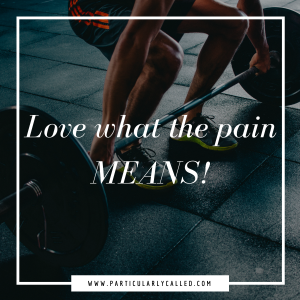 Read also:
Working out is very analogous to the cross. I like the analogy because it is very tangible to us who always need something we can relate to make the Spiritual World feel less incomprehensible.
In fitness, your body doesn't start changing until you break through your plateaus, until you push past that point where you feel like you can't anymore… and then you do!
You cannot grow in any area of your life until you step out of your comfort zone.
Unless it hurts, you are wasting your time! – Shaun-T
No one likes the actual pain of an intense workout, but you can come to love what the pain means. Sweat burning your eyes is unpleasant to say the least, but at the same time, it feels incredibly cleansing – from the inside out.
For the word of the cross is foolishness to those who are perishing, but to us who are being saved it is the power of God. – 1 Corinthians 1:18
Read also: How to become Fit at Life – 10 life Lessons you will Learn Just from Working out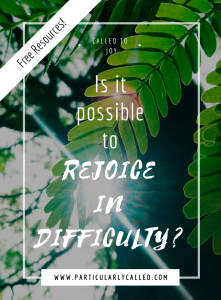 Learning to Rejoice in Difficulty
Embrace the Cross
But may it never be that I would boast, except in the cross of our Lord Jesus Christ, through which the world has been crucified to me, and I to the world. – Galations 6:14
I had all 5 of my babies without any pain medication whatsoever.
People thought I was crazy.
Even Christian women I admire eyed me strangely and said, "God helped medicine advance to where it is now, there is no shame in taking advantage of what it has to offer."
But, I didn't deny meds to prove something, or with the intention of gleaning some kind of heightened spiritual knowledge.  I did it because I was more afraid of needles and any other interventions than I was of birth itself. Yeah, I know, I'm crazy…
But, God used my fear to teach me a life changing lesson on the value of pain.
There were certain things that my coaches were able to tell me that anyone who had chosen to eliminate the pain may not have been able to fully understand.
Embrace the contractions. Relax. Just breathe to the hurt.

You are stronger than you know. You were made for this.

The pain is bringing your baby [your joy] closer to you.

Every time you fight the pain, you prolong your agony.

The pain cannot do it's job as long as you are fighting against it.

It is here. This is your moment. Embrace it all.

The worse it gets is just a sign that it will be over soon.
These phrases stuck with me far beyond childbirth, because they were so desperately true. They were true so far beyond that hospital room that they have become the foundation for my philosophy on parenthood, spiritual growth, work, ministry, marriage, and pretty much life itself.
Read also: How to Embrace your Cross – 2 Practical Steps
The Joy of the Cross
If anyone wishes to come after Me, he must deny himself, and take up his cross and follow Me. – Matthew 16:24
There is always a reward beyond the Cross. There is always the joy of a child after birth (unless you have lost a child in childbirth, in which case my tears, my heart, and my prayers are with you always).
When we suffer there is always a reason even if we cannot see what it is.
Read also: How to Let Go of being Angry at God? (Control, Anger, Peace, and Paradox)
Hindsight is always 20/20
It IS possible to rejoice in difficulty.
One day you will be grateful for your cross. One day you will understand what it is all for. All will be made clear in time.
Trust the process. Practice embracing the unknown in trust.
Your Resurrection will be greater than you could ever imagine.
Read also:
Share below: Have you ever managed to rejoice in your difficulty? How did you grow as a result of your embracing your cross?
#togetherinthetrenches #ParticularlyCALLED #IamCALLED #embracethecross #totalsurrender
[mailerlite_form form_id=1]