Last week I was told to reflect on Psalm 22. I had been crying to my friend about the trials of bedtime with 4 littles and a tired mommy especially when daddy isn't there to help…. and my prayer was a beautiful experience – not just, I think, for mothers but for anyone trying to live out any vocation or, simply, a truly Christian life.
The Psalm is meant to be a foreshadowing of Christ's sufferings at Calvary and the biggest shock I had was how much I related to it – how we all can relate – how much it felt like the Psalmist was describing my own life at that moment (minus the melodramatic psalmist vocabulary choices – or maybe with them – I'll let you decide – haha).
PSALM 22
As my children screamed and cried about brushing their teeth and ran in every direction except toward the bathroom, my eyes went up to heaven and I let out my desperate plea "God, help me."
My God, my God, /… / Why so far from my call for help? / from my cries of anguish?
I felt:
I am a worm, hardly human, / scorned by everyone, / rejected and despised by the people.
I remembered the feelings of joy and peace I have when things are great.
You drew me forth from my mother's womb / made me safe at my mother's breast /… / since birth you are my God.
And then looked back at the chaos: (disclaimer: no, I don't think my kids are dogs or evildoers but some days make me wonder)
Do not stay far from me, / for trouble is near, / and there is no one to help. / …

Many dogs surround me / a pack of evildoers closes in on me.
And made my desperate plea again:
"Lord, do not stay far off / My Strength, come quickly to help me.
If I succeed in my vocation (my cross):
Then will I proclaim / your name to the assembly / in the community I will praise you / …

For God has not spurned nor disdained / the misery of this poor wretch / did not turn away from me, / but heard me when I cried out.
And I will truly know that no matter what happens:
the poor will eat their fill
In every vocation, we have our crosses. We all have "dogs" closing in on us and we all know what it is like to feel abandoned or alone. But, there is a plus side to all this! Our crosses "proclaim His name in the assembly".
If we accomplish what we have been called to do:
All the ends of the earth will worship / and turn to the Lord.
Because,
I [will have] lived for the Lord / all my descendants will serve You. / and the generation to come will be told of the Lord, / that they may proclaim / to a people yet unborn / the deliverance you have brought.
Every vocation is hard and there are days when life feels like Calvary, there's no reason to pretend that's not true. But the point is, the cross isn't something we should run from or hide from, but embrace and glory in. Since we cannot Identify with Christ in His perfection, we have been given the honor to identify with Christ in His suffering. Thus, we too can "lift high our cross" in triumph and share in its victory… for He will not abandon us!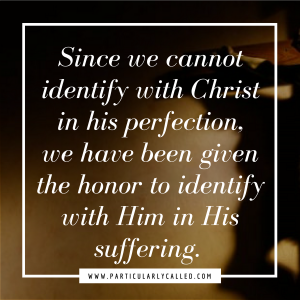 Read also:
---
#ParticularlyCALLED #togetherinthetrenches #IamCALLED