I used to think that I had a calling to do something or be something one day….
I thought that "Vocation" meant I had to become a celibate religious person or else I "didn't have one". I thought if I wasn't called to that life, I was somehow left out.
I grew up believing that marriage was only something you did if you weren't good enough to do anything else.
I was wrong…
This entire BLOG was named from this realization!
It is true that we are called to do things one day, and that there are vocations to religious lives and professions, but callings are so much more than that.
What is a calling?
A calling means simply being drawn by God to do or be something at any time. Callings aren't limited to a select few individuals, nor are they limited to a specific list of options. EVERY human being is called to something at every moment. We are simply called, drawn, to the God who made us and to the perfection we were made for.
Callings can change and grow and evolve, just like our seasons change and grow and evolve.
There is an appointed time for everything. There is a time for every event under heaven—

A time to give birth and a time to die;

A time to plant and a time to uproot what is planted.

A time to wound and a time to heal;

A time to tear down and a time to build up.

A time to weep and a time to laugh;

A time to mourn and a time to dance. … (Ecclesiastes 3:1-9)
Callings can be obvious or subtle. They can be unique to a single person, specific to a family, or even universal to a nation or even all people. Think of Noah's calling to build the Arc, or Abraham's calling to be willing to sacrifice even his only son to show His trust in the Lord. Think of Moses' call to lead the Israelites from bondage in Egypt (and the Israelite's call to follow him), or Abraham's call to uproot his family and seek new lands, etc. Think of the callings entailed by each covenant in the Old Testament including the calling to circumcision, and think how that call evolved into the calling to Baptism in the New Covenant. Think of the universal calling to embrace our identity as children of God and our calling to reflect His image. What about our calling in every moment to love as Christ loved, to serve as He served, to trust as He trusted, and live as He lived?
Are you too busy for God?
Free 3 day video email series with workbook!
How bad is busyness anyway?
Hang out with Martha and Mary for a couple days and double check your priorities. Plus, make a practical plan to find balance between service and rest befitting your season!
A child is called to grow, to eat their veggies, to learn to respect those who care for them, and to mature into a healthy, strong, and capable adult.
Adults are called to millions of different things: to start a business maybe, to get married. to stay single, to consecrate their lives solely to the Lord,  to provide for their families, to have children, to accept the loss of children, to be poor, to be rich, to live in certain places at certain times, to join certain ministries, to leave certain ministries. We can even be called to multiple things at once, depending on the time, place, or season of our lives…. or be called to focus solely on one.
Callings are simply highly personal, guilt-free invitations to the best life possible. Will you accept yours?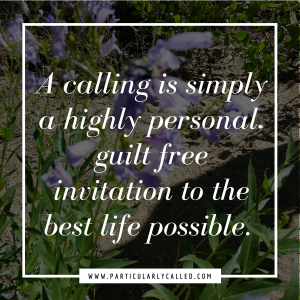 Recognizing a calling
A calling presents itself as a gentle tug on your heart.
A persistent feeling that something isn't right or that there must be "more".
It tends to call us to action of some kind –
we may feel the inexplicable need to do something, go somewhere, or help someone.
This typically makes us do one of three things:
Accept the call – Begin to act, or try to at least seek more details about what it is that we are being called to do,
Avoid the call – Tell ourselves we are crazy and try to ignore it,
Reject the call – Try to drown it out with more noise, or busyness (in an attempt to "replace" the call with something else).
The call can be difficult to ignore.
He calls you by name. Even if you don't audibly hear Him say your name , the call is very personal and feels made "just for you".

Not only did he call Abram by name, but even gave him a new name when calling him to become the father of many nations (Genesis 17:5)
He called Moses by name at the burning bush, (Exodus 3:4)
He called each of the Apostles by name and they laid down their nets and followed Him.
He called Zacchaeus by name from the tree and asked to dine at His home that day (Luke 19:1-10)
Much Like Abraham, not only did he call Peter by name but he also gave Him an new name when calling him to be the "Rock" upon which he would build his church. (John 1:42)

The call doesn't just "go away". It is deep and gentle, but persistent.  Often presenting itself as a longing for something more / different / better in your life.
The call is not (typically) conventional –
usually both radical and simple at the same time. If you think about it, that's who Christ was in the Gospels… Simple and Radical.
"Lord, if it is you, bid me come to you on the water." "Come." said Jesus. (Matthew 14:28)

Then Jesus said to His disciples, "Therefore I tell you, do not worry about your life, what you will eat, or about your body, what you will wear.  For life is more than food, and the body more than clothes.  (plus the rest of the passage… Luke 12:22-35 or Matthew 6:25-34)

And He sent them out to proclaim the kingdom of God and to heal the sick. "Take nothing for the journey," He told them, "no staff, no bag, no bread, no money, no second tunic. … (Luke 9:2-5)

Jesus, looking at him, loved him, and said to him, "You lack one thing: go, sell all that you have and give to the poor, and you will have treasure in heaven; and come, follow me."  (Mark 10:21)
Callings often entail short term cost – long term joy
Most of the callings we experience in our lives will require some sacrifice or effort on our part. It will not always be immediately obvious how they will make you happy in the long run. They tend to require trust and personal growth. But that is why they are so good. We become stronger and better people because of them, never weaker, lazier, or more complacent.
They are typically counter-cultural because our culture is so focused on instant gratification with the least amount of effort.  This is why people who try to follow their callings often feel like they are trying to swim "against the current".
Are you too busy for God?
Free 3 day video email series with workbook!
How bad is busyness anyway?
Hang out with Martha and Mary for a couple days and double check your priorities. Plus, make a practical plan to find balance between service and rest befitting your season!
Rejecting your calling
There are typically only a two ways you can reject your calling:
Not being willing to quiet your heart enough to recognize a calling in the first place. Maintaining a hyperactive lifestyle or intentional chaotic noise level in your life so as not to ever have a chance to face God in quiet.
Thinking your plan is best – Refusing to listen or accept the idea of an invitation to something that claims to be better than your ideas. Intentionally choosing to ignore, drown out or refuse the tug on your heart.
The Signature of Rejection –
Unhappiness. Unfulfillment. Constant chasing of "more" and never being satisfied.
Jesus, looking at him, loved him and said to him, "You are lacking in one thing. Go, sell what you have, and give to [the] poor and you will have treasure in heaven; then come, follow me."  At that statement his face fell, and he went away sad, for he had many possessions. (The Rich, Young, Man – Mark 10:21-22)
Typical Universal Callings
1 We are called to live every moment to the fullest – to be truly extraordinary
We go through life surviving.  We strive to be "normal".  We want to fit in.  We want to get by.  We want to just be comfortable.  But there is so much more to life than normal, so much more than ordinary.
We need to live with intensity and purpose in every moment. We are called to do each thing that we do well and with great love – no matter how insignificant it may seem.  We are called to discern if we are using our time to the fullest or if we are wasting it. We are called to truly put ourselves into each and every thing that we do.
We are called to give 100% of ourselves, 100% of the time.  A little here and there, some, or even "most", just doesn't cut it.  If we are living with Love as our guide, He never stopped until He shed the very last drop of His blood.
We were created for Paradise, for perfection, for greatness, for fulfillment (see Longing). There is a special plan for each and every one of us. We were created by love, for love.  We need to come back to what really matters. We need to remember that we are particularly called.
This is so much more than discovering our particular style in clothes or home decor or our particular interests in food or hobbies. We are called to discover our place in this world. We are called to find our particular work, our ministry to make our corner of the world a better place.  We are called to find ourselves in relationships and in solitude. We are called to true womanhood or manhood. We are called to a intimate relationship with God with God. We are called to change and growth. We are called to discover our littleness and embrace our belovedness. We are called constantly to more and better things, more and better love.  We are called, as Matthew Kelly says, to become the best-version-of-ourselves. What else is there?
3 We are called to suffering
Pain isn't just an inconvenient or distasteful part of life that is to be avoided. Granted, we needn't seek it out (See post on Suffering) but if we've been alive longer than about 5 minutes we know that it doesn't need to be sought out to find us. Our trials aren't a nuisance. Our trials are a gift, a gift to show us who we are. Are we resilient? resourceful? hopeful? persistent? strong? patient? Or are we easily daunted? whiney? selfish? weak? impatient? despairing?
Our trials bring out the raw and unadulterated us…. in trials we can't put on a face for others to see but rather our truest self shines forth. They show us what we need to work on, how we can improve, and how much we love.
Embrace it and let it expand your heart!
Read also: Called to be Fit at Life
Join the Real, Simple Prayer challenge!
Free 5 day email course (with workbook) to help you build a vibrant prayer life that you can get excited about!
Learn what prayer is and how to create a simple and dynamic prayer routine for your season.
You have already Signed up for the 5 Day Prayer Challenge! Try the Making More Time for God Challenge or the 4 Week Building My Relationship with God E-Course. Check the Freebie page or the Bookstore for links to all our Resources! Blessings!
4 We are called to love
Love gives life meaning, purpose, and joy. We are called to love our children, our spouses, our neighbors, our authorities, and even strangers.
We may have heard that love is not a feeling, but it's a decision. What we may not realize is that love is not a decision even to feel a certain way but to act a certain way.
[tweetshare tweet="LOVE isn't a decision to feel a certain way, it's a decision to ACT a certain way! " username="CarolynMPereira"]
It is to choose to act for the good of the person we love, no matter the consequence to ourselves. This is why the saying "if you love someone, let them go" is so true. It shifts the focus from what you want to allowing the other person to freely choose the relationship, which makes the love in the end all that much sweeter.
To live love we must constantly renew the decision to choose the good of the other person above our own desires. Often this requires us to act without knowing the cost to ourselves….
Read also:  The Capacity of a Heart
Are you willing to pay the price to live the love you are called to?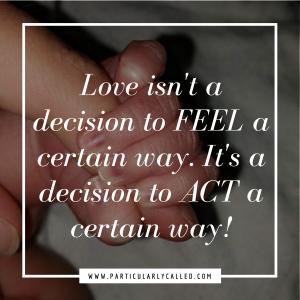 5 We are called to LIFE
Call it what you will, a full life, a happy life, eternal life. When you think of your ideal life, what do you see? Joy? Peace? Love? A finally satiated loneliness? Freedom from fear? from pain? from longing? We want this dream because we were created to want it. We want it because it is possible. We want it because it is good. We are good. And we were created by goodness Himself. We don't just have to believe that it is possible. We don't just have to blindly hope. We can taste and see NOW that this is true. But, we can only taste it once we let go of what we already know. We have to try something different in order to experience something different. We can't be satisfied with the mediocre that lets us down, rather we must be bold, daring, trusting. Take that leap of faith. Let go of what you know in order to discover something greater.
Life is more than we know. Love is more than you think. Fulfillment is possible as soon as you are willing to die for it…. only to realize that once you do, you've never been more fully alive!
---
On a Personal Note:
I say these things not because I have somehow mastered life already, but because I haven't. I too need to remind myself of what's important and what all the events and people of my life are teaching me. I desperately need to grow as well, to continue maturing, improving, searching, finding, loving, accepting and hurting to find my way.
But I have tasted what it can be like. The little openness I have already experienced let's me know with absolute certainty that genuine happiness is possible. That God truly wants me, and everyone else, to experience everything He created us for and that it is very good! It is a good beyond imagination but nonetheless it is real, life changing and worth every moment and every struggle it takes to arrive there.
Have you ever felt called to something? Share below!
---
#togetherinthetrenches #ParticularlyCALLED  #IamCALLED