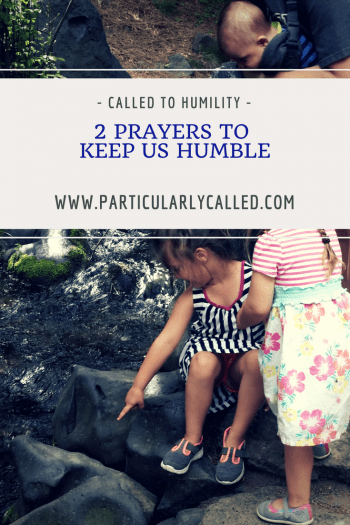 Take My yoke upon you and learn from Me; for I am gentle and humble in heart, and you will find rest for your souls. ~ Matthew 11:29
We've all heard that there are 2 things you should never pray for, humility and patience.  Why? Why because God might ask us to practice them, of course!
Scary, yes? but, worth it?  More than anything!

First Prayer – Gratitude
The toughest and most rewarding piece of advice I ever received was to say, "Thank you, Lord, for this opportunity to practice patience", each time I found myself "loosing it". The advice was pretty much laughable at the time. Having struggled with strong anger and impatience issues, it took me over a year to even attempt to say it for the first time. It is hard to thank someone for wounding our pride. However, when put into the perspective of personal growth, the effort it takes to put forth a good response to an unappreciated circumstance takes on new meaning, purpose and worth.
The exact same prayer works for humility. Each time we feel the pain of our wounded pride we should attempt to check our initial reactions by saying this small, but life changing, line.
"Thank you, Lord, for this opportunity to practice humility."
It's a little like a steady stream of water eroding all the sharp surfaces from a rock, making what was rough soft again.
Second Prayer – Litany of Humility
This prayer is best if regularly incorporated into your routine because with frequent use it becomes something always present in the back of your mind. You begin to recognize places in your life that you wouldn't necessarily recognize where pride has a foothold in your life.  Pride keeps you from going deeper in your knowledge of yourself – because it makes you avoid or deny your weaknesses. It also keeps you from going deeper in your relationships with God and others – for a prideful person only has room in his life for himself. This prayer is intense but worth it.  Do not be afraid.

As the prayer is somewhat long I have attached a screenshot of it and a link to the document in order to print.

Do you need prayer in this area? Do you want to share a testimony of a breakthrough of humility in your life and what it has done for you? Comment below!
---
Read also:
Called to be Humble – Why Humility isn't a Betrayal of Self
Called to Learn – The Secret to Recognizing Life's Teachable Moments 
---
#Togetherinthetrenches #ParticularlyCALLED
Related