When God wills suffering?
How can a good God possibly allow suffering?
We pronounce the question with a flourish, smiling smugly on the inside thinking that we've finally found ourselves an excuse to doubt Him, or at the very least, justify our bitterness or our desire to run away.
What I realized yesterday is that maybe all along, we've been asking the wrong question.
Should God really have to explain Himself to us? Should we only deign to listen to Him only when we understand His plan?
Maybe it isn't always about understanding why… maybe its about learning how to respond.
What we know about Suffering
We know that suffering is real and all of us experience it.
Therefore, it doesn't matter why God wills suffering, it is only left to realize that, He must.
This leaves us with 2 options,
 reject the concept of an all powerful and all good God (which many people do), or
believe that there has to be another option, that suffering has a purpose!
If losing your faith isn't an option (which, when you've had a true experience of God is not, at least I hope its not) then all that is left is to seek to discover the meaning.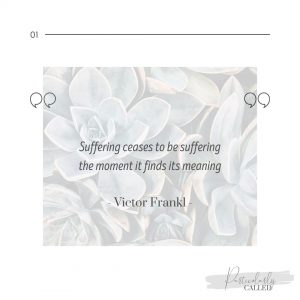 3 Encouraging Reminders for when God Wills Suffering
1 – ACCEPTANCE ALWAYS PRECEEDS UNDERSTANDING
Yes, for our God of paradox, we must have faith before we can experience healing. We must surrender before we can taste victory.
2 – IT DOESN'T GET EASIER – YOU GET STRONGER
While suffering never ceases to hurt (or it wouldn't be suffering) your strength to bear does increase, your ability to appreciate it grows, and your view of it changes – slowly but surely going from resentment and anger, to joyful anticipation and surrender as long as you continue to lean in
3- RUNNING AWAY ONLY PROLONGS YOUR AGONY
If you try to escape, inevitably when you come back the agony is still there and the pain will be fresh again. As with so many things in this life, the only way out is through. Therefore, in the moments we feel the deepest anguish, that is precisely our cue to stand firm, lean in, press closer, love deeper.
5 Simple Prayers for when God Wills Suffering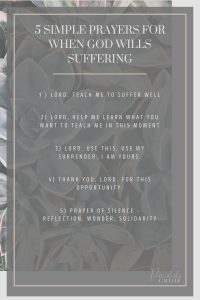 1 – Lord, teach me to suffer well.
This prayer can be said in an instant, any time anywhere, to help us learn to embrace the burn and, eventually,  to live that moment joyfully.
2  – Lord, help me learn what you want to teach me in this moment
Since all suffering has a purpose, a lesson, or a fruit of growth, as soon as the suffering has served its purpose the suffering will cease. PROMISE. If it hasn't ceased, you can be sure there is still more purpose to be found in it.
3 – Lord, use me. Use my sacrifice to love another or gain merit
To some the concept of self offering can come as a shock. What could my offering this possibly have to do with the person or intention on my heart? The answer: EVERYTHING! But we won't know it until we believe it and we try it.
The real question here is , if this sacrifice did matter. Would I do it? Do I love enough to let the rubber meet the road? instead of just saying "I wish there were something I could do" the thought should shift to, "Maybe there is something? 
You know you are on the right track when suffering no longer feels like suffering – it feels like love. 
When we focus on the pain of suffering we are focused on how much it hurts us, how much we dislike it, how unfair and hard it is, etc, etc, etc… suffering is unbearable. Why? Because that focus is completely on self – how this affects me. Love is completely incompatible with this.  Do I love enough to offer the merit of cheerfully bearing this particular difficulty for someone else?
No one has greater love than this, to lay down one's life for one's friends. – John 15:13
4 – Say, Thank you.
Gratitude is a powerful practice, especially in the most difficult moments.
Thank you, Lord, for this opportunity to practice _____(patience, humility, forgiveness, kindness, etc)
Thank you, Lord, for this opportunity to love so-and-so. 
Thank you, Lord, for this opportunity to grow, to be close to You, to _______________
This practice of gratitude is extremely difficult at first. Thanking God for suffering doesn't come naturally by any means, but the practice of gratitude in your darkest moments will change your life if you dare to try it.
5 – Feel
Don't say anything. Just feel the pain, acknowledge it. Don't run away, breathe into it. Take it an an opportunity for reflection and solidarity with the Lord as He suffered innocent and without explanation.
He was oppressed and afflicted, yet he did not open his mouth; he was led like a lamb to the slaughter, and as a sheep before its shearers is silent, so he did not open his mouth. – Isaiah 53:7
Wonder. Maybe even journal. Why does it hurt so bad? Is there something in me that this pain is meant to help heal, grow, change?
This one reminds me of a chapter…
…in my dear friend Sara Robinson's book I love Jesus by I Want to Die called "Sit in the Dark" where she talks about how she felt God encourage her to sit with the pain and let it transform her. Stop running away. Stop seeking explanations. Just live the moment and trust that one day, the light will break through the shadows once again, and because of the darkness we will be all the more ready to receive it with greater appreciation than ever before.
[mailerlite_form form_id=1]
Verses for Hope when God Wills Suffering
Because the Lord disciplines the one he loves, / and he chastens everyone he accepts as his son. – Hebrews 12:6 

He cuts off every branch in me that bears no fruit, while every branch that does bear fruit he prunes so that it will be even more fruitful. – John 15:2
For You have tried us, O God; / You have refined us as silver is refined. / You brought us into the net; / You laid an oppressive burden upon our loins. / You made men ride over our heads; / We went through fire and through water, / Yet You brought us out into a place of abundance. – Psalm 66:10-12
Behold, I have refined you, but not as silver; / I have tested you in the furnace of affliction. / […] / And My glory I will not give to another. – Isaiah 48:9-11

Not only so, but we also glory in our sufferings, because we know that suffering produces perseverance;

 perseverance, character; and character, hope. – Romans 5:3-4
He will sit as a smelter and purifier of silver, and He will purify the sons of Levi and refine them like gold and silver, so that they may present to the Lord offerings in righteousness. – Malachi 3:3
I have given you a model to follow, so that as I have done for you, you should also do. […] If you understand this, blessed are you if you do it. – John 13:15-17
Discernment – a Necessary Skill for Embracing Suffering Well
It is important to note that not all suffering is good.
Some suffering exists to let us know that something is bad and should be avoided. This is often suffering that exists as a consequence for poor choices or careless behavior (although the same principles usually apply for working through it in the end). It is always important to recognize why the suffering exists, and acknowledge the difference between suffering as a consequence, and suffering allowed by God's "permissive will" when we are completely innocent of any wrongdoing – for example, the suffering that results from child abuse, chronic illness, or natural disasters.
There is no conflict between when a personal trainer says "Don't play through pain" and when they say "Feel the burn!"  In the fitness world there is also the phrase, "It hurts so good". It is important to push muscles in the fitness realm past their breaking point so that when they heal they regenerate stronger than before.  This is what causes physical transformation and it is no different in the spiritual realm. It is just extremely important to learn to discern between good hurt and bad hurt in the midst of applying these principles.
When God Wills Suffering – Take advantage!
Learning to suffer well is the secret to happiness.
If you can learn to love suffering, you will be completely invincible. The Enemy's chief weapon against you has lost its power forever. Now, come what may, you can always turn the Crucifixion into the Resurrection.
This life will always be a valley of tears, a separation from paradise, Eden, God. It doesn't matter what we believe about it or what it says about the goodness and trustworthiness of God or not – Suffering exists, its just up to us whether we let it defeat us or raise us up.
Oh my Jesus, grant me the grace to suffer well.
---
More articles on Suffering:
[mailerlite_form form_id=1]