Are you in a difficult relationship?  If you are, or ever have been, you know how painful they can be. They suck the joy from our step and the purpose from our souls. And most often we begin to think it is because the love has left that relationship and been replaced by hatred and resentment.
But, in reality, it's not because we don't love the person we are in that difficult relationship with, but rather, the relationship is difficult precisely because we DO.

The most difficult relationships…
… are the ones between people who are the closest to each other – between married couples, between siblings, between steadfast friends, or even parents and grown children.
If we didn't care about that person, their actions, perceptions, and words would not matter to us. When we don't care about someone, they have no power over us.
But when we DO care, we try (almost too hard at times) to take the other persons opinions or reactions into consideration when we attempt to choose our own words and actions.
But, what if the other person doesn't care about our efforts?
It feels like walking on eggshells around someone who is determined to hate anything and everything you say and do. Their determination to reject you is what hurts the most, when all you are really want to do is love them.
What do you do when a difficult relationship gets to this point?
Most people decide to run away, to quit, to let resentment win.
But, not you.
No, dear heart, you are here because you believe this relationship is worth fighting for… but not in the way the world tells you to fight. You've probably exhausted all those avenues anyway. You believe that God ordained these relationships, that they are good, holy, and important. And, somehow, He is your solution.
You have chosen love.
You believe that love is more powerful than hatred, mistakes, anger, and resentment. But, how do you live that when a relationship is supposed to be a 2-way-street? When there needs to be some reciprocity? When both parties need to choose healing for healing to occur?
[mailerlite_form form_id=12]
8 step Christian Approach to Difficult Relationships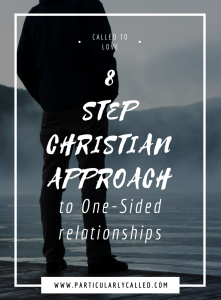 1- Be Humble
All of you, clothe yourselves with humility toward one another, because, "God opposes the proud but shows favor to the humble." Humble yourselves, therefore, under God's mighty hand, that he may lift you up in due time. Cast all your anxiety on him because he cares for you. – 1 Peter 5:5-7
At this point you are pretty much certain that whatever the problem is, it's not your fault.  But, you still need to own your mistakes.
Become painfully aware that relationship problems do not arise one sided and that at some point, you probably DID contribute to the problem.
Were you insensitive? Judgemental? Unloving? Demeaning? In the wrong?
Be sure that you have genuinely and meaningfully apologized for any part you may have had in the rift, both to the offended party and to God.
Read also: Bible Verses about Humility
If you have already done this, kudos to you, now you can move on to the next step…
2 – Be Compassionate
Finally, all of you, be like-minded, be sympathetic, love one another, be compassionate and humble. – 1 Peter 3:8
Whatever caused the rift may have felt way more serious to the other party than it did to you. You may not feel like it was a big deal, but to them, whatever happened may have shaken their whole world. Try to imagine how you might feel if something comparable would have happened to you.
This may not require any action on your part, just a simple acknowledgement of another person's heart.
Never, under any circumstances does compassion equal compromise. You do NOT have to lower or change your beliefs or expectations to accommodate another person as long as step 1 has been dutifully, and prayerfully, completed.
Read also: 13 Bible Verses on Being Compassionate
3 – Be Patient
Be completely humble and gentle; be patient, bearing with one another in love. – Ephesians 4:2
Try to accept that they may need time to process their emotions, in order to return to a more rational state in which they can rise above those emotions and forgive.
If trust was broken, remember that even though they may forgive you, it will take more than a simple apology to rebuild that trust. It will take consistency and time. If you were the one who broke that trust, you need to remain positive and willing to re-earn their trust… no matter how long it takes.
Read also: 29 Timeless Bible Verses on Patience
4 – Be Open
My dear brothers and sisters, take note of this: Everyone should be quick to listen, slow to speak and slow to become angry. – James 1:!9
Listen!
Let them have it out.
If the other person needs to unload on you about how they feel, just remember their feelings are subjective and the situation may not be as dire as they paint it. Their words may offer you great insight into why they might be as upset as they are. They may also provide you with the understanding you need if you are struggling to be compassionate.
Being "Open" also means letting the other person be silent if they are not ready to speak.
Read also: 39 Bible Verses on Listening
5 – Be Forgiving
Then Peter came to Jesus and asked, "Lord, how many times shall I forgive the one who sins against me? Up to seven times?" Jesus answered, "I tell you, not seven times, but seventy-seven times." – Matthew 18:21-22
Even if the other person isn't being forgiving, you must be willing to forgive the way they are treating you now.
Ask God for the grace even to forgive them for the worst thing they could possibly do to you in the future, or the worst thing they could have possibly done that you don't know about.  This concept is called Prior Forgiveness.  It is included in the etymology of the word "fore-give-ness" – Freely given BEFORE.
This is important because it makes you impenetrable to any more damage from them for as long as they continue to lash out in anger.
Also, be sure forgive yourself for any part you may have had in causing the problem (if you identified anything in Step 1).
Read also: 29 Bible Verses on Forgiveness
6 – Be Rational
 I am confident of this, that the one who began a good work in you will continue to complete it until the day of Christ Jesus. – Phillipians 1:6
When a relationship is one sided and it's not your fault, you need to remember to remain rational – no matter how irrational the other person is being, and no matter how "unfair" it seems. The Enemy has the ability to manipulate feelings but he cannot penetrate the realm of reason.
[tweetshare tweet="The Enemy has the ability to manipulate feelings but he cannot penetrate the realm of reason. " username="CarolynMPereira"]
This simply means, you get to be "the bigger man".
You have to be the one who turns the other cheek (Matthew 5:39).  Dear heart, you get to be the one who remembers to remain calm, no matter how much even your calmness angers them.
Responding to anger with anger, doesn't lead to healing, but only to double the anger.
If you are secure in Christ, you can rest in the fact that no amount of silence, lies, anger, or lashing out on anyone else's part can ever hurt you really – much less change the truth.
Jesus then said to those Jews who believed in him, "If you remain in my word, you will truly be my disciples, and you will know the truth, and the truth will set you free." – John 8:31-32
7 – Be Prayerful
Look to the LORD and His strength; seek His face always. – 1 Chronicles 16:11
Take your situation before the Lord. He is the ultimate healer, and only He can change hearts.
You can only control how YOU act and respond in any given situation.  You cannot control or convince anyone else to believe or act in any way, you can only ask our Lord to touch their heart on your behalf. This can often feel like you are praying for an enemy  … but really we are praying only because we love.
This prayer needs to be serious, intentional, surrendered, and it MUST include fasting.
Read also: Do you know how to Pray for your Enemy
8 – Be Surrendered
Do not pray with self-interest at heart, but only in the best interest of your loved one. Let them go if they believe they need to go, but let them come back when they are ready – without judgment or reclamation (Think Parable of the Prodigal Son). This works very much in tandem with Step 3 – Be Patient.
Be willing for your prayer to have a different answer than the one you think should happen.
Read also:
---
[mailerlite_form form_id=12]
FAQ's for Difficult Relationships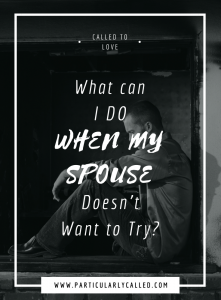 Why does my relationship have to be so difficult when I am doing my best to fix it?
When our relationship is difficult – WE need to realize that we are most likely in an irrational relationship.
Not irrational because the relationship doesn't make sense, but because the people in the relationship are speaking and acting from a place of emotion and not reason.
Emotions are Powerful Things
When we perceive that we are hurt, we can lash out and become completely irrational. (Yes, that fight-or-flight hormone comes into play in our emotional health too.) And, when we perceive that the other person has gone from the realm of reason to emotion, we tend to slip out of our own rational selves into the emotional one too. Dr. Emerson Eggerichs calls this the "Crazy Cycle".
It can be very difficult to break, but the first step is identification.
The pros and cons of emotions in relationships
Rationality is built on truth – truth is immobile, constant, unchanging.
God is truth.
I am the way, the truth and the life. – John 14:6
Feelings are changing. Perceptions can be wrong – Especially when the relationship is already on the "crazy cycle". The enemy has the ability to manipulate emotions (but never reason). Ever listened to those lying voices in your head? Yeah, that's him.
The only way to help a difficult relationship is to step back from it emotionally and approach it from a more rational perspective.
Reason can heal emotions…. But emotions cloud our reason.
This is why being able to take a step back from our relationships and to approach them from a place of reason, not emotion, is healthy at times, and even healing. Sometimes making that space or that distance to re-approach a situation with reason is completely contrary to our nature. Especially for people who like to hash out problems immediately in order to resolve them, and even more so if their other person is one who stews silently on issues for a long time.
Should you handle all difficult relationships the same way?
In other words, should I handle a difficult relationship with a sibling or a parent the same way I handle one with my spouse?
Essentially, yes.
If you can think of any situations in which you believe there should be an exception to this, please let me know in the comments.
Is there any hope for my difficult relationship?
There is always hope.  As long as there is life and breath within us, there is hope. Our God is a God of Miracles and can turn even the stoniest of hearts to flesh (Ezekiel 36:26). We only need have faith – and pray like we mean it.
Read Also: Do you know how to Love your Enemy?
Comment Below: Have you ever experienced healing in a one-sided or otherwise difficult relationship?  What helped it heal?
#ParticularlyCALLED #Togetherinthetrenches #IamCALLED
[mailerlite_form form_id=1]