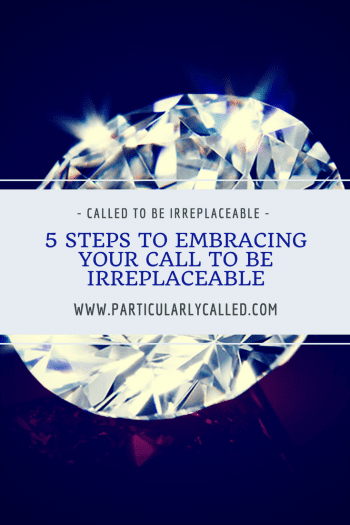 Sometimes we think of being irreplaceable as free stardom. We think of it as something that "ups" our self esteem, that makes us worthy of awards, recognitions, praise and prizes. We all long to be seen as irreplaceable because it makes us feel valuable and loved.
It's a beautiful thing!
But, this is only half of the equation….  
We (conveniently) tend to forget that irreplaceability comes with responsibility!
How many times have I gotten bitter that I have to do something for it to be done "right"? How many times have I been angry that my kids still wanted to hang onto my legs or have me help them with something even when daddy was home? How many times have I complained that God didn't make someone else able to "fill in for me" when I get tired? or lazy? or bored? or simply unwilling?
Who am I?  Why can't someone else take my place?  Do what I am called to do? Love how I am called to love? Why does it have to be me? Why does it have to be so bad take a little more "me time" at the expense of someone else?  Why does it have to be so bad to cut corners, give one less hug, say one less kind word, to step back and leave something undone? Only because, if we don't, no one else will… and the world will slowly continue crumbling one undone, inconvenient kindness at a time.
YOU were given eyes to see the universe in a unique way and that ability allows you to see certain needs as obvious when no one else might be able to see them or fill them in the way they need to be filled.
YOU were given irreplaceable hands, irreplaceable talents and an irreplaceable heart.
It is unreasonable to expect someone else to provide the same love that YOU are called to give the world and the individuals in it. It is unreasonable to expect others to be strong enough in just the right ways to able to carry the cross that only you were meant to carry.
It is unreasonable to expect others to be you!
How to embrace your Irreplaceability
Stop expecting others to know what you know, or to do things that you think are obvious.
Stop complaining about what you can see needs to be done.
Stop pushing others away who legitimately need you – Most often we do this out of laziness, spite or irritation. You might be the only one who can help.
Learn how to discern what you are called to do. (Read also: Called to Dance: Listening)
Embrace who you are meant to be, and Do Something! (Read Also : Embracing who you are, Called to Dance: Following)
How is God challenging you to be irreplaceable today? or How has someone else impacted you in the way they embraced (or didn't embrace) their irreplaceability?
Share Below!
Read also: Called to Motherhood: Recognizing the Meaning of Irreplaceability
---
#Togetherinthetrenches #ParticularlyCALLED
Related